FORMAT Deli Counter 200g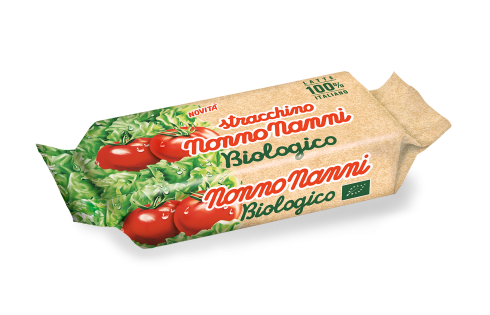 FORMAT Self-Service 125g
Texture smooth
and creamy
Taste fresh,
smooth and delicate

No
preservatives

Storage
between 0° and +4°C
Organic Stracchino
The unmistakeable taste of Nonno Nanni Stracchino in a delicious new organic version.
Nonno Nanni Organic Stracchino is made with the finest selection of top quality certified origin ingredients.
Milk and cream from only certified organic Italian suppliers, live lactic ferments, salt and rennet all go into Nonno Nanni Organic Stracchino.
Smooth and creamy as ever, this soft cheese is delicious on its own, or as the secret ingredient that makes all of your recipes extra tasty!
Product varieties available:
DELI COUNTER

SELF-SERVICE

SHAPE

200g rectangular block
125g rectangular block

PACK

Hand-wrapped in deli paper
Wrapped flow-pack with recyclable plastic inner tray

PACKAGING

Polystyrene foam box containing 8 units
Cardboard box containing 6 units
Delicious, smooth and
creamy as ever, now it's organic too
NUTRITION DECLARATION
per 100g of product
Energy value

1251 kJ / 302 kcal

Fat

27 g

of which saturate

19 g

Carbohydrate

1,8 g

of which sugars

1,7 g

Protein

13 g

Salt

1,1 g

Calcium

345 mg (43% NRV*)

Fosforo

266 mg (38% NRV*)

Vitamin B12

0,8 μg (32% NRV*)
* NRV = Nutrient Reference Values