A history of goodness that is passed down from one generation to the next.
Since 1947, we have been producing fresh cheeses following the recipes and teachings of our grandfather, Giovanni Lazzarin (known as Nanni), with love and passion. Day after day, for over 70 years, we have been carrying on the family tradition with the same commitment and respect for the ancient dairy art. We carefully follow each step of production: from the milk delivered fresh every day to our dairy to the meticulous choice of milk cultures selected over years of cheese-making experience for the taste they give our cheeses.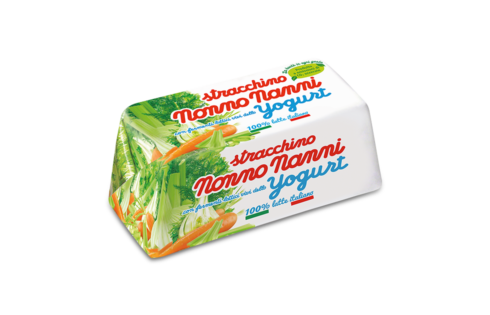 FORMAT Deli Counter 250g
FORMAT Self-Service 250g
FORMAT Self-Service compostable 100g
Texture
Extra smooth,
creamy and light

Taste
Fresh, mild,
delicate yogurt flavour

No
preservatives

Storage
Between 0° and +4° C
Stracchino with probiotic yogurt culture
Nonno Nanni Stracchino is a fresh,
soft cheese with a unique flavour.
The meeting of two excellencies: Nonno Nanni Stracchino and yoghurt. Nonno Nanni Stracchino with probiotic yogurt culture is a sweet, delicate tasting fresh cheese which satisfies even the finest palate, the intense creaminess of the Stracchino being in perfect harmony with the unusual characteristics of yoghurt.
Nonno Nanni Stracchino with probiotic yogurt culture can be found hand-packed at the deli counter in the fridge section in its practical 250 g and 100g flow-pack format with internal tray. 
Product varieties available:
DELI COUNTER

SELF-SERVICE

DESCRIPTION

250 g Rectangular block
250g and 100g Rectangular block

PACK

Hand-wrapped in deli paper
Wrapped flow-pack with recyclable plastic inner tray and compostable flowpack packaging and inner tray (100g)

PACKAGING

Cardboard box containing 8 units
Cardboard box containing 8 units (10 units for 100g)
NUTRITION DECLARATION
per 100g of product
| | |
| --- | --- |
| Energia | 1251 kJ / 302 kcal |
| Fat | 27 g |
| of which saturate | 19 g |
| Carbohydrate | 1,8 g |
| of which sugars | 1,7 g |
| Protein | 13 g |
| Salt | 1,1 g |
| Calcium | 345 mg (43% NRV*) |
| Phosphorus | 266 mg (38% NRV*) |
| Vitamin B12 | 1,5 μg (60% NRV*) |
* NRV = Nutrient Reference Values
A fresh, soft cheese
with a unique flavour