Round zucchini stuffed with cream of Squaquerello
Ingredients for 4 persons
4 round zucchini
a crumbly stale bread roll
whole milk as required
80 gr of thinly sliced mortadella from Bologna IGP
a handful of marjoram
chives as required
a pinch of nutmeg
30 gr of grated Pecorino Romano DOP
40 gr of grated Parmigiano Reggiano DOP
150 gr of béchamel
150 gr of Nonno Nanni Squaquerello
salt and pepper to taste
extra-virgin olive oil as required
Nonno Nanni Squaquerello is a fresh, distinctly flavoured soft cheese.
Method
Wash the zucchini and remove the tops, keeping them to one side. Scoop out the inside of the zucchini with a spoon leaving a layer of pulp of about half a centimetre. Divide the bread into two or three pieces and soak them in a little milk. Coarsely chop the zucchini pulp and fry it in a pan with a little oil, salt and pepper. In the meantime, blanch the zucchini and their tops in plenty of salted water for 10 minutes and then set them aside on some absorbent kitchen paper.
Preheat the static oven to 200 degrees. Place the zucchini pulp in a bowl along with the bread after squeezing out as much of the milk as possible, the pecorino cheese, the parmesan, the finely chopped mortadella, the marjoram and the chopped chives. Season with salt and pepper, adding a pinch of nutmeg. Lightly dress the zucchini with a little oil and refill them with the mixture up to the brim. Place them on a baking tray sprayed with a little oil and cook for about 15-20 minutes, until the filling appears well browned. Heat the béchamel, remove from the heat and add the Squaquerello, and then mix them until they are fully blended. Serve the zucchini with their tops on, placed on a bed of béchamel, Squaquerello and chives.
Squaquerello
Recipe devised by food blogger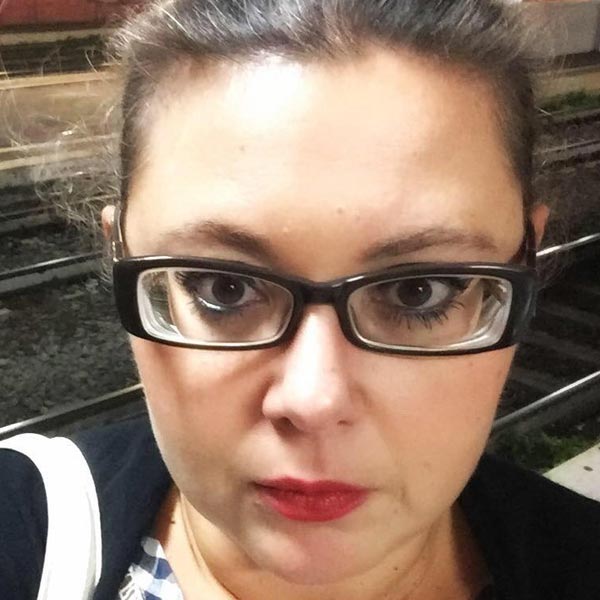 Ada e Riccardo
Siciliani creativi in cucina
A Sicilian, a journalist and a cook. I am Ada Parisi and I have been living in Rome since 2007, but I am always travelling around to share all that's good and beautiful about Italy. My great passion is cooking; I have always cooked, ever since I was little.