Second courses

MEDIUM

55 min
Aubergines Filled with Sausage, Robiola Cubes and Cherry Tomato Confit
Ingredients for 2 persons
2 long aubergines (250 g each)
250 g pork sausage
100 g ground meat (veal)
100 g Nonno Nanni Robiola
8 cherry tomatoes
extra virgin olive oil
shallot
fennel seeds
ground cumin
salt
pepper
cane sugar
mixed herbs (thyme, oregano, etc.)
Nonno Nanni Robiola is a fresh cheese that is extremely easy to spread and has an intense, pleasant taste.
Method
Preheat the convection oven to 170°C. Wash the aubergines and cut in two lengthwise, then score the flesh in a cross-hatch pattern with a knife (read the notes *). Line a baking sheet with parchment paper and arrange the aubergines - with the scored side up - and the cherry tomatoes, washed and cut in half. Season with salt, pepper, herbs and a drizzle of extra virgin olive oil. Bake until the flesh of the aubergines is soft (at least 30 minutes) and the tomatoes are dried out.

During the final minutes of cooking, sauté the finely minced shallot in a frying pan. Add all the crumbled meat and fennel seeds and brown on high. Remove the aubergines from the oven, scoop out the flesh with a spoon, chop it and add to the frying pan (then put the hollowed out aubergines and tomatoes back in the oven). Cook the filling until it is dry, mix well and fill the two larger aubergine sections **, top with breadcrumbs.

Take the tomatoes out of the oven (and the two smaller aubergine parts) and turn the grill on to 200°C. Brown the top of the stuffed aubergines until nicely golden, then serve topped with cubed robiola and cherry tomato confit on the side.

Note
* The two parts do not have to be the same size; you just need to cut the aubergine open so it can be filled. You should have a much larger part and a smaller top piece. Then, with a knife cut along the inside of the larger part making sure the blade does not pierce the skin; you should have a border with a little bit of flesh. Meanwhile, score the rest of the flesh, on the smaller piece as well, in a cross-hatch pattern. This will help the flesh cook more quickly.

** The peel from the smaller piece, once it has been hollowed out, can be used as decoration. For example, you can cut it into strips and wrap them around each toothpick (see photo) that will keep the cube of robiola in place. Another nice idea would be to serve the aubergine divided into several pieces so everyone can enjoy their own finger food.

Speaking of finger food... They made be hard to find, but if you spot baby aubergines, buy them without batting an eye! Think how amazed your guests will be to be able to eat (using only their hands) a small, single-portion aubergine full of delicious goodness in every bite!


Robiola
Recipe devised by food blogger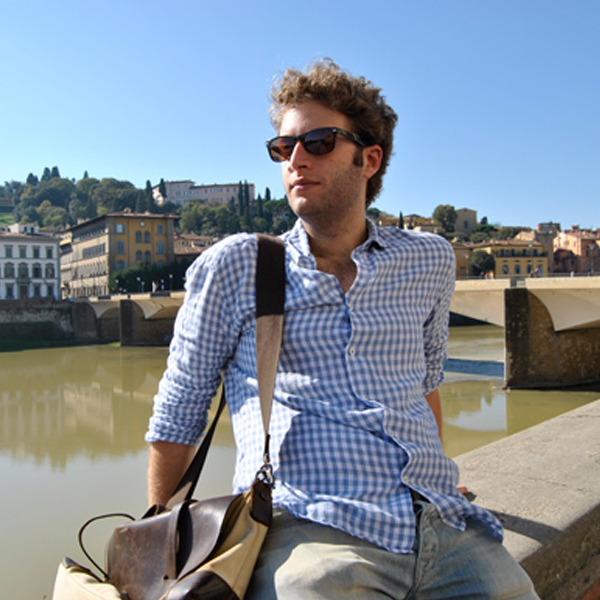 Vittorio Caselli
Noodloves
Vittorio Caselli, ash blond, Aquarius and a great desire to learn. I'm from Naples, born in '93. I consider myself a supporter of freedom – in life and in cooking – and respect for others (live and let live).