First courses

MEDIUM

30 min
Fake savoury cheesecake with Nonno Nanni Stracchino
Ingredients for 4 persons
1 cup of parboiled rice
0.4 oz of fresh asparagus
14.1 oz of Nonno Nanni Stracchino
2.8 oz diced bacon
1/2 sachet of saffron
Vegetable broth
Parmesan and Pecorino cheese
Virgin olive oil
Shallot (or onion)
Nonno Nanni Stracchino is a fresh, soft cheese with a unique flavour
Method
Finely chop a small shallot and sauté with olive oil and bacon (in a saucepan over a low heat). When it has nicely browned, put aside a few cubes of bacon and put the rice in the pan. Toast it, stirring constantly with a wooden spoon, then add the broth a little at a time, the saffron and cook.
Meanwhile, put the asparagus (washed well and without stems) in a pan and cover with water; add a little salt and cook over a medium-high heat until they are cooked but very crispy (if necessary, add more water). When ready, transfer them to a plate and cook on a very high heat until they are a slightly burnt.
Keep stirring until the risotto is al dente and well blended; at this point, stir in the grated Parmesan and Pecorino cheese. Separately, in a bowl, mix the cheese and asparagus (cut into pieces but without the tips, to be kept) with a fork. Place a pastry ring in the plate and fill it with risotto pressing well so that the rice fills all the holes. Clean the pastry ring and, delicately, hold it above the disk of rice; then fill it with the mixture of cheese and asparagus.
Finish by adding on top: a few cubes of bacon (kept aside earlier), the asparagus tips, griddled, and decorate with raw asparagus.
Stracchino
Recipe devised by food blogger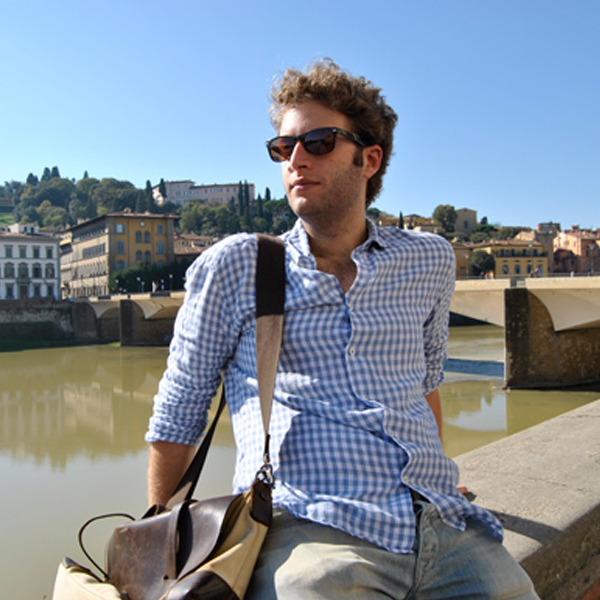 Vittorio Caselli
Noodloves
Vittorio Caselli, ash blond, Aquarius and a great desire to learn. I'm from Naples, born in '93. I consider myself a supporter of freedom – in life and in cooking – and respect for others (live and let live).