First courses

MEDIUM

60 min
Savoury puffs on Stracchino cream
Ingredients for 10 persons
for the choux pastry
use half the amount indicated here, adding pepper and sweet paprika to flavour the dough
for the pea soup
200 g peas
half a fresh spring onion
4 tablespoons of extra virgin olive oil
salt and pepper to taste
for the puff filling
300 g fresh ricotta
60 g grated Pecorino cheese
2 tablespoons single cream
salt and pepper to taste
for the Stracchino cream
150 ml fresh single cream
4 anchovy fillets in oil
5 g butter
100 g Nonno Nanni Yogurt Stracchino
Nonno Nanni Stracchino is a fresh, soft cheese with a unique flavour
Method
After preparing the puffs, make a hole in the bottom of each with the tip of a knife and set aside. For the pea soup, put the thinly sliced fresh spring onion in a saucepan with a little oil and fry until lightly browned. Add the peas, stir and pour in a glass of water. Season with salt and cook for about 10 minutes, then mix everything in the blender until creamy smooth, neither too thick nor too thin.

For the puff filling, blend the ricotta with the cream until smooth and homogeneous, then add the Pecorino cheese and pepper and blend again.

For the Stracchino cream, put the butter in a frying pan and let it melt, add the anchovies and mash well with a fork, then add the cream. Bring to the boil and add the diced Yogurt Stracchino, stirring until it melts. Remove from the heat and allow to cool: the cream will slowly thicken.

To serve, place the filling in a pastry bag and fill each puff. If you want to serve individual portions as finger food or in bowls, pour a little of the pea soup on the bottom, place the puffs on top and, again using the pastry bag, decorate with the Stracchino cream, anchovies and a bit of freshly ground black pepper.
Stracchino
Recipe devised by food blogger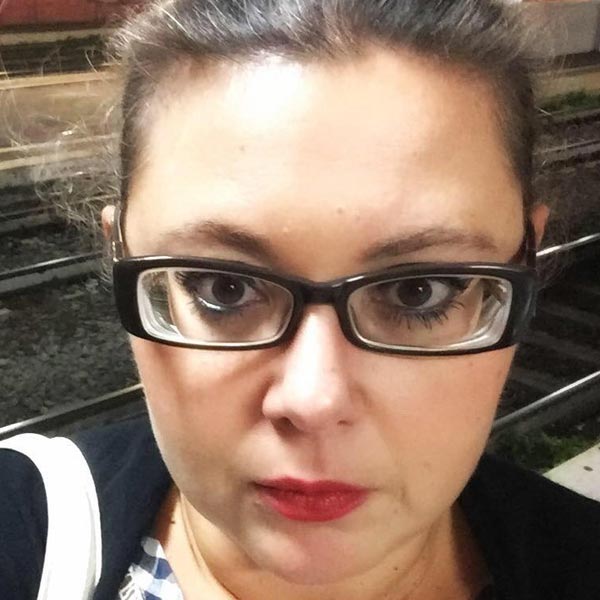 Ada e Riccardo
Siciliani creativi in cucina
A Sicilian, a journalist and a cook. I am Ada Parisi and I have been living in Rome since 2007, but I am always travelling around to share all that's good and beautiful about Italy. My great passion is cooking; I have always cooked, ever since I was little.